Apparently there are too many good TV shows these days. Between raising a kid and running a business (and sleeping occasionally…) it's not humanly possible to keep up.
Everyone says: 'You've gotta check out Breaking Bad…Game of Thrones…House of Cards…'
And so on.
The other day I was talking to Julliette (part of our all-star team here at Rivas) about some new furniture display models we are ordering.
We flip to the bed section. We've been weighing whether we order one of their beds. They are beautiful. Made from similar materials as our mattresses, with awesome natural fabrics to prop up against. But, we don't know how they'll go over. We've only had solid wood beds, so far.
'I like the idea of the upholstered headboard,' I say.
We flip through the options and she sees one she likes.
'Yeah. I especially like these, where the headboard wraps around the sides, so I can lean back and get cozy and read a book,' she says. 'It's like the beds on Downton Abbey…'
'Great…I guess I'll have to start watching that show now,' I say.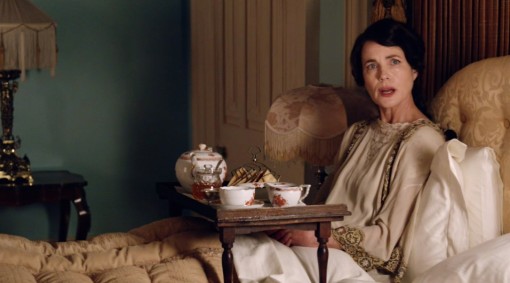 I haven't started yet. But we did look through some google images and, sure enough, there they are, in bed with tea and crumpets and elegant padded headboards. Very civilized!
The natural linen, hemp and Organic cotton upholstery that comes on our Cisco Brothers furniture and beds isn't quite as ornate as the Downton Abbey sets. But it does look elegant. Warm and comfortable. Modern yet classic.
They say a good, solid headboard is proper Feng Shui, too. I guess it works everywhere.
Tea time…