What is Clay Paint? We are always trying to find the cleanest, healthiest building materials. And from our first experiments with Clay Paint, I can tell you that it's a beautiful, natural way to spruce up your walls.
I dragged Riva to Detroit, shortly after we met. I was there for school for a couple of years. Part of our first nesting experience was painting the little apartment nestled 30ft from the junction of the I-75 super-expressway and the Amtrak line.
But it was a decent apartment, once you got used to the noise.
We spent hours looking at color chips and ultimately decided on this bright green color for our bedroom (I like bright colors.)
Amazing color. (in my opinion, not the landlords…)
We painted and painted coat after coat and finally got the gross color we inherited covered up.
It looked awesome!
We moved our bed into the room and about 5 minutes into the night realized that we couldn't sleep there.
She felt sick. I had a huge headache.
The paint smell was terrible.
We had to sleep on the living room floor. All the windows open. Fans on full blast.
It was over a week before we could move into our room.
The moral of the story, unfortunately, isn't that we learned our lesson and opened a healthy paint store.
The moral of the story is that we didn't think anything was wrong.
We thought that this was just the way things were.
We accepted it.
We didn't know any different at the time. This was long before anyone outside of the Chemically Sensitive had ever heard of VOC's or had much concern about the chemicals in paint.
No. Like most people, we first cleaned up our lives by changing our diet. Getting rid of processed foods and sugars. Eating organic, local, clean food.
What a difference that made!
From there we learned about the importance of all the choices we made. We learned that what you put on/around your body is as important as what you put in it (because you are still effectively putting it into your body, whether you can feel it or not.)
We have recently been renovating our house. Another nesting project. We are using the opportunity to test new products and to use some of the things we talk about every day.
Our most recent experiments (going down memory lane with a new bright green) have been with a new, natural clay paint that we are hoping to launch soon.
What is clay paint?
There are many different recipes. But basically it's a combination of natural minerals and bonding agents (in most cases something like a plant or wheat paste, although a milk protein is sometimes used.)
It's a true, natural, traditional way to paint a wall. (and when I say natural, I mean actually pure, clean, unadulterated ingredients found in nature, not natural like petrochemicals…)
Clay paint has been around for thousands of years in some form or other.
And it still works!
(believe it or not, thousands of years of testing haven't led us astray…)
Actually, it worked incredibly well.
Part of the reason for choosing a bright color when testing a paint is that pigments can cause paint to act differently. And be very transparent. Meaning lots of coats to cover properly.
With the clay paint, we got full coverage with 2 light coats. The high solid/mineral content had no problem creating an opaque finish.
The clay paint bonded well with the latex underneath. No cracking or uneven absorption.
The ultra flat finish gives a beautiful, rich depth. In our small experiments, it was washable to a certain extent, though because of how flat it is, it can't be as scrubbable as, say, your eggshell latex. Mostly our scrubbing smoothed out the pebble texture a little bit, but didn't take the paint off the wall.
Compared to a latex paint, the brush marks don't melt away in quite the same way. Careful painting is encouraged. But even with our amateur skills, the project is looking great.
And, with it's pure, natural ingredients…no headaches! No bad smells, no nausea.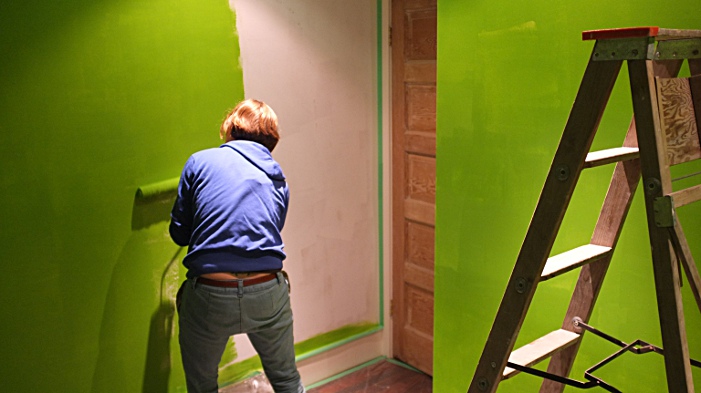 So what is clay paint?
It's maybe the perfect choice for your painting project!
The other great thing about clay paint is that you can make it yourself. If you are the DIY type, check out our friends at Dirtcraft. They host all kinds of earth building workshops, including making your own Clay Paint. We highly recommend any of their courses. (if you can get in before they fill up)
If you just want to buy a pure, natural product to get the job done, keep an eye on our site for our new Natural Paints. And of course, our natural plasters are still the Cadillacs of wall finishes, if you really want to bring some earth into your home.
And why wouldn't you. Let's get painting!