My dad has really caught the 'support local' bug this year, especially looking to avoid the 'made in China' tag.
Being a dutiful son, I have to argue, at least a little bit… Even though I generally support the sentiment.
'Made in China is better than many alternatives, these days,' I point out as he browses our store. 'Many of the large companies have moved their manufacturing to cheaper, and even less regulated countries like Bangladesh, Cambodia, Vietnam…'
Perhaps this is splitting hairs…
We hear something to this effect every year. A 'made in China' free Christmas is not an uncommon theme. There are all kinds of reasons: Avoiding lead coated toys, supporting better workplace ethics, the neighborly benefits of supporting locally owned business, the environmental benefits of reducing shipping footprint, and so on.
And hey, shopping for higher quality, more local, more interesting stuff gets full support from us!
But we've never been able to be a completely 'locally sourced' store. Carving our niche at the intersection of health and natural, traditional craft has led us to scour the earth for the purest, best quality, most interesting stuff. And not everything is 100% perfect on all fronts.
We've sold shoes from companies like Vivo Barefoot. We love their commitment to free, natural movement. It's part of our total health vision. And they backed up their product with commitments to ethical conditions and non-toxic materials and adhesives, in spite of cutting costs by manufacturing overseas.
We've sold sweaters from Stewart and Brown that were handknit in Mongolia. A vertically integrated process connecting the source of the wool to the production. Again, a company that cared deeply about their social practices. (we miss you s&b!)
But we've always tried to find awesome stuff made here. Or close to here. Or where it makes the most sense to grow, refine, spin, craft something from a certain material.
Realistically though, as much as there are nice things about the idea of being totally local, it hasn't really existed in a long, long time. At least since the invention of sailing ships. Trading spices, art, fabrics, across the seas.
Realistically, I suspect most of us would get pretty bored with a long winter of eating dried meat, cabbage and potatoes. (I love avocados, pomegranates and 'fresh' vegetables as much as the next guy…)
So we find the best local stuff we can. And we find the best from around the world. It adds some spice to life, you might say.
…
My dad picks up a pair of Merino socks from our rack.
'There's no reason it should be cheaper for the machine that weaves this to be in China rather than here,' he says.
I don't know exactly how the numbers crunch, but I'm happy to at least be able to turn over the label to where it says 'made in the USA.' Not quite right-here, but getting warmer…
I can show him the most amazing linen sheets, made by a traditional Belgian company. (We can grow linen (flax) here, but don't have the infrastructure in place to turn it into anything. Yet. Even our hemp gets shipped to China or Europe for processing before it comes back to us.)
I can show him beautiful Organic cotton pyjamas and robes made in Germany and Turkey. (Cotton = less likely to ever be grown here, but still a clothing staple.)
I can show him Duvets and Pillows made by Crescent Moon, in BC. (Actually using a decent amount of Alberta wool…)
AND…
Now I can show him our latest find! (Riva is pretty much the most excited person in the world about this, for the obvious reasons, and for others I'll have to get into in a later article)
Hand-woven scarves, bags and kitchen linens made by West of the Fourth Weavers. From Red Deer! (actually, from a town just east of Red Deer…)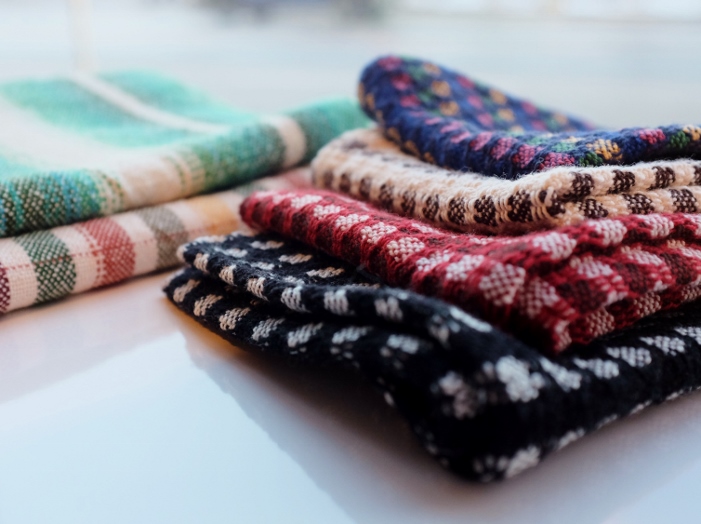 Did you know that the largest hand-looming operation in North America is just up the road from us?
That's not saying it's very big. (three weavers, a couple of apprentices, and handful of looms…) But these guys are serious. About quality. About their materials. About their art.
(And yes, I said hand-weaving. The real deal…)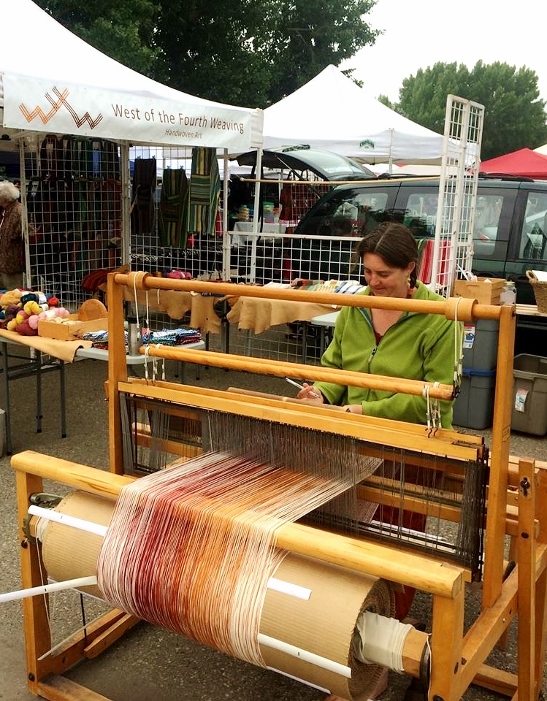 Their stuff is beautiful. You can feel right away the difference between their stuff and machine woven fabric.
I will interview them soon, to get the full story of their quest to find cotton actually farmed and spun in North America. A touching, sad, yet hopeful story best told in their words. Needless to say, it wasn't easy. Their commitment gets us jazzed.
It isn't everyday you meet people with this world-class level of skill and craft. Sometimes you have to travel to the ends of the earth. And when you're really lucky, they live just around the corner. And you can invite them over for dinner.

This is true functional art. We are honored to share and display it. Every edition and color pattern is unique and limited. If you see something you like, act fast! Drop your not-so-subtle Christmas hints to all the right people. (Or cheat and grab it for yourself right now. We won't tell…)