Posted on
By Andrew Mackie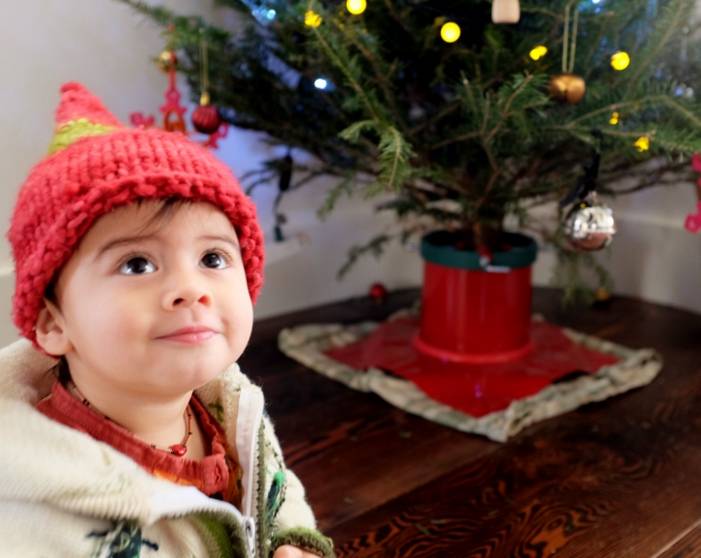 I wrote an article recently for the REAP Calgary Blog getting a little sappy about this whole 'Christmas Spirit' stuff.
But say whatever we want about it–the stress, the crowds–there is a certain magic in the air this time of year.
Having a kid around really makes you notice it. As an adult, it's easy to forget the excitement the little things can bring.
'Christmas Tree. Christmas Tree. Christmas Tree!' he says, over and over again, pointing at the tree we recently set up in our living room.
We've never set up our own tree before. Every year we spend Christmas Eve through Boxing Day with family out of the city, so we've just never done it. A couple of times we've tried hanging lights and ornaments on one of our plants, but it isn't really the same. Especially to a one-year-old.
And especially since, everywhere we take him–the grocery store, the post office, everywhere–has a tree lit up and decorated.
'Christmas Tree. Christmas Tree. Christmas Tree!' we hear.
Certainly heart-warming moments that take you back to your childhood excitement. To the days when magic was everywhere.
The choice was obvious. I don't have the skills or heart to explain to a one-year-old why we don't bother setting up a tree.
(check out the REAP article on Christmas tree ethics, as well…)
The ornaments on our tree are a little unbalanced. Only unbreakable ones on the bottom half. He pulls them off and tries to hang them again, without great success.
The stress and hassle of the season quickly evens out. Or balances in favor of love, warmth, family, friends, togetherness, giving a care…
Sure it can be stressful.
Parking is crazy…
So much to do…
Ideas. Ideas. Ideas…
'I need to think of the perfect thing for… And for…'
You know how it goes. Especially as the days count down.
There are two ways to deal with it.
Get pulled into the stress. Overwhelmed by the pressure of the last minute.
Or enjoy every second of these next 2 days. It only happens once a year. Get lost in the magic, rub elbows with your neighbors as you jockey for position in mall line-ups, enjoy the enjoyment of giving, (and getting…), of being together, and share the love. Even as an adult, the excitement doesn't need to be lost.
Is it the last minute yet? Not even close. And if you're like me, the last minute always comes with a twinge of sadness. I say enjoy as many of the minutes as you can!