Posted on
By Andrew Mackie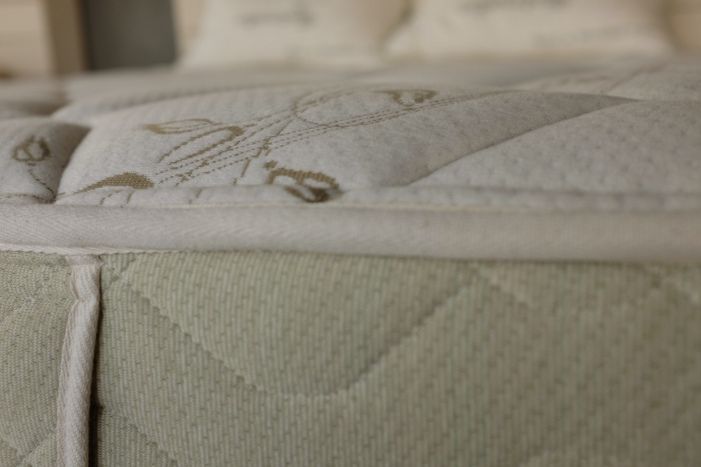 No sheets, duvets or decorative blankets on this week's dreamy bed!
We've stripped it down to show it off. Just as nature intended.
It's long overdue, because in case you've been under a rock and haven't been up to the Sleep Healthy Loft (our Organic Mattress showroom) in a while, there have been some big changes up here.
Most notably, we have a whole set of new OMI Organicpedic mattresses and pillows on display.
And they're green!
'Green,' you ask?
Well, not all green. The covers are primarily made of similar off-white organic cotton as they always have been. But now they are highlighted with a pattern of green foliage.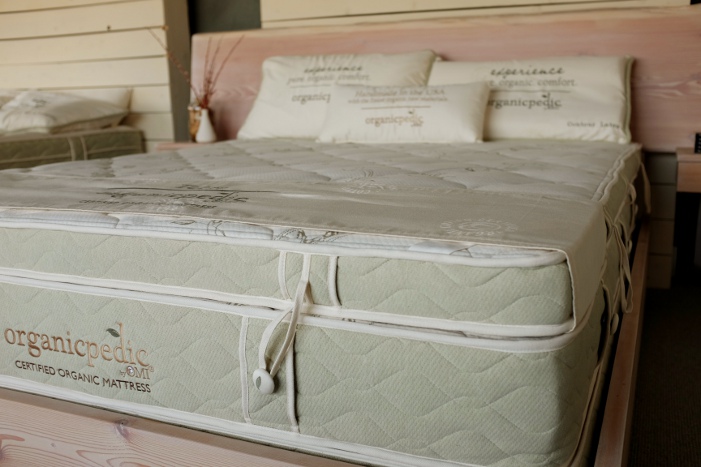 The great part is that, in spite of these details, we can still describe the covers and being made of 100% unbleached, undyed Organic cotton.
'How's this possible,' you ask?
Simple. Color-grown cotton!
Yes. That's right, natural cotton grows in more colors than just white. Traditionally, color-grown cotton ranges from earthy reds, to greens, to browns. Colors don't fade like dyed cotton (not that this is particularly relevant under your sheets, but hey…) and the fibers are shorter and softer.
The process of separating and breeding colorful cotton has been around for thousands of years but has been re-pioneered in North America by Sally Fox, following the strictest, healthiest biodynamic and organic farming practices. (nice article about it here, if you want to read more.)
So why has OMI gone to the trouble of finding this type of cotton? Especially since it costs more, and since no one is really going to see it once the bed is dressed.
In my opinion, it represents their undying (ha) commitment to purity. And to making your sleep experience special. Because there is really nothing like this fabric. As far as cotton goes, it's the best of the best, and a symbol for the rest of the materials they are using.
Their natural latex cores are from certified Organic plantations, and, perhaps most importantly, they test them to be sure that there are no offgassing chemicals that have snuck their way in. When you are committed to the Purity Guarantee, there is no margin for error.
But if you think all this 'technical' stuff is a distraction from what's most important… you getting the best sleep ever, think again. These beds will take the comfort challenge against anything out there.
Don't believe me? Come try them yourself. It's the first step to sleeping great!